Merlin C. Dailey & Associates is one of the oldest professional Asian art dealers in the United States specializing in fine Japanese woodblock prints, paintings, drawings and illustrated books from Edo-period Japan. In tandem with our expertise in numerous areas of fine Asian art, we have cultivated extensive knowledge of Ukiyo-e woodblock prints (pictures of the Floating World) over the last forty years. We have acted as consultants to museums and private collectors around the world. We have appraised collections and authored catalogs for private individuals as well as museum collections. We have advised and represented both public and private clients at auction in the U.S. and abroad.

Welcome to our online gallery.

Prices and condition reports available on request.
Please inquire about inventory not shown on this site.
We are interested in purchasing fine works of Asian art.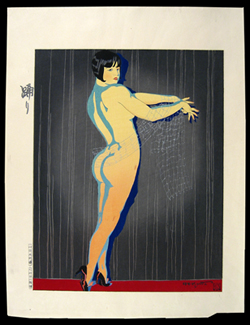 Ishikawa Toraji (1875-1964)
Dance Odori 1934
Signed: Ishikawa Publisher: Ryoku-oso Gashitsu
Series: Ten Types of Female Nude Nudes
Dai oban tate-e